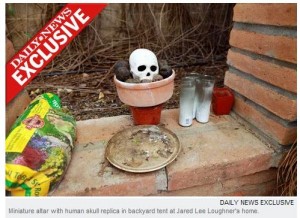 CONTRARY TO popular belief, satanic crimes were not invented by Geraldo Rivera in the late '80s to get ratings.  In our scientistic society, it's easier (and perhaps more comforting) to believe that crimes with occult signatures are committed by wannabes or invented by overactive imaginations.
Russ Dizdar, founder of Shatter the Darkness Ministries, joined us to discuss the upcoming Occult and Satanic Crimes Conference (November 15 & 16, 2013, at the Marriott Courtyard in North Cantion, Ohio).
Please join the discussion at the PID Radio Cafe, visit the VFTB Facebook page and check out the great Christian podcasters at the Revelations Radio Network.
Download a smaller, lower-fidelity version of the mp3 of this show by clicking here.
Podcast: Play in new window | Download
Subscribe: Apple Podcasts | Android | Email | Google Podcasts | Stitcher | RSS