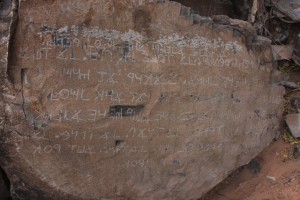 AN 80-TON boulder in New Mexico raises some intriguing questions: Were people from the Ancient Near East in New Mexico sometime before 500 B.C.?
Dr. Aaron Judkins talks about his new documentary, "Hidden Mountain and the Los Lunas Mystery Stone" (also available on YouTube by clicking here) which records his investigation into what may be a Paleo-Hebrew inscription in the New World.  Aaron talks about the evidence for and against its authenticity and speculates as to why the Los Lunas Stone has attracted so little attention when at least one reputable scholar of Ancient Near Eastern languages, the late Dr. Cyrus Gordon, believed it was genuine.
Sharon and Derek Gilbert will be at the sold-out Pikes Peak Prophecy Summit July 26-28, 2013 with Gary Stearman, Tom Horn, Chuck Missler, L.A. Marzulli, Joseph Farah, Dr. Stan Monteith, Cris Putnam, and many more.  Get information here.
Please join the discussion at the PID Radio Cafe, visit the VFTB Facebook page and check out the great Christian podcasters at the Revelations Radio Network.
Podcast: Play in new window | Download
Subscribe: Apple Podcasts | Android | Email | Google Podcasts | Stitcher | RSS