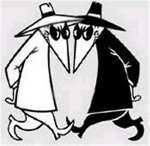 The Wikileaks release of secret US government documents is a "staged crime scene". So says professional private investigator Doug Hagmann, CEO of the Northeast Intelligence Network. Doug explains why it's simply not plausible that Julian Assange and Pfc. Bradley Manning got their hands on a quarter of a million secret docs without some professional help.
Doug also shares what his military and intelligence sources are telling him about that mysterious "contrail" off the coast of Los Angeles a couple of weeks ago.
In the second hour, we break the rules of polite company by talking politics and religion. We're joined by Dr. Jim Garlow, pastor of Skyline Wesleyan Church in San Diego and the chairman of Renewing American Leadership, a group founded by former Speaker of the House (and potential presidential candidate) Newt Gingrich. How much energy should Christians put into political efforts to transform society?
For more background, check out this episode of The Collins Brothers Unleashed in which they examine the techno-utopian tendencies of Newt Gingrich.
That, the Bunker Intelligence Briefing, and your calls.
Podcast: Play in new window | Download
Subscribe: Apple Podcasts | Android | Email | Google Podcasts | Stitcher | RSS